The presentation went smoothly, and afterwards we discussed how to proceed next. When I left uni, I discovered that the sun had appeared and it was a lovely day.
I've been Debian Project Leader for exactly six months today. I'll use that as an opportunity to reflect on the whole thing to see how I'm doing.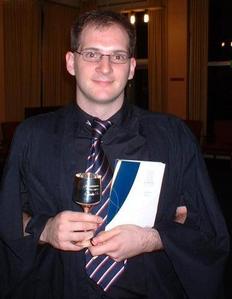 Today was Valedictory Dinner at my college. Since I'm finishing my degree this semester, I counted as a valedict. Of course I've only stayed here for a year whereas most other valedicts are finishing three or four year degrees. Some guys had prepared a slideshow of photos of the last few years and a movie which was rather amusing. Someone also played a nice prank — he suddenly removed some flags from the wall of the dining room (we have flags of all the nationalities from our college there) and behind he had written farewell.
Now I have to prepare for a presentation on my research which I'll have tomorrow morning. The slides are fortunately done, but I have to fix the handout one of my colleagues has written and add some references.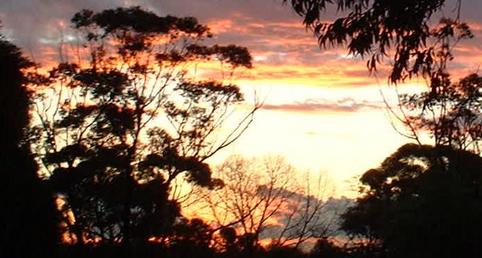 It was in fact nice for a few days, but that changed today. Unfortunately, it started raining about five minutes after I decided to go shopping. I got pretty wet which was quite unpleasant. On the other hand, I kind of liked the rain since it reminded me of summer in Italy. At the end of summer, which is when my family always used to get there for holidays, it often rains, but at the same time it's quite warm. So it's actually quite nice. I'm glad it stopped raining, though. In the evening, there was a lovely sunset.
It's almost mid October. I wonder where the time has gone. The semester is drawing to an end and I realize that I've spent much more time on Debian than on uni. I think I basically treat Debian as a full-time job and uni as a part-time job. I suppose that explains why I'm busy all the time. ;-)
There were some interesting events connected to Debian recently. A few days ago, I got up and found a nice message in my DPL mail folder informing me that Debian has won the Linux Journal Readers' Choice Award as the favourite distribution. I also managed to get James to announce how New Maintainer rejections would happen and to actually get some done. It was really time this happened. I also chased more inactive maintainers. It's amazing (and depressing) how many inactive developers there are in Debian. However, I'm actually more annoyed by those developers who are basically inactive but don't think they are. Unfortunately, they are not up to date with what's going on at all and don't produce any good work at all. At the same time, they don't want to give their packages away because "I'll find time to fix it this weekend" (sure…). The problem is that I have heard this from so many people and then seen the (non-existing) results that I know it will never happen - but they really think they'll find the time. I've also spent a fair amount of time helping some folks in Italy prepare a proposal to get funding from the EU for a project involving mobile Linux and Debian.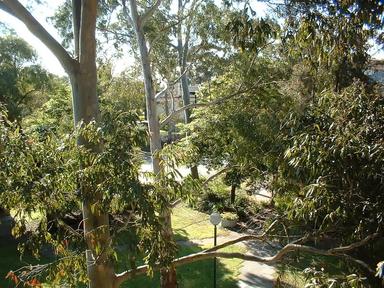 I've also done some work for uni. I've finally managed to compile a listing of 40 successful and 40 unsuccessful random projects from SourceForge. This wasn't as easy as it may appear because I had to make sure that the two groups don't differ in lines out code, age and category (development status). Now my other other team members can analyze those projects. We're doing a blind study so I won't tell them which projects are successful and which are not.
Today it's actually sunny and pretty warm. Unfortunately, this is the exception rather than the norm. The weather has generally not been very nice in the last few weeks, and I've been told by a local that it is likely to stay like that for the next couple of weeks. The photo shows the view from my window.
I received an email a few days ago from an Open Source researcher from Cambridge University (Judge Institute of Management) who wanted to interview me about Debian. I found this pretty ironic. In any case, I just spent an hour on the phone with him talking about management and coordination aspects of Debian.

          0    Sep 30 18:39     /var/mail/tbm

How is that? I wonder how long it will stay this way; probably not long since I'm going to dinner now.
I had a meeting at uni today with the folks with whom I'm working on some research (basically, it's forced teamwork in a class on Software Engineering case studies). It seems to be going fairly smoothly; apparently we're ahead of most other teams. Later, I wrote an outline of the PhD I'm going to do because I need this for a scholarship I'm going to apply to; I also got all of the other bits and pieces together which I need for the scholarship application. After finishing that, I spent a couple of hours on sorting out Debian related mail. Unfortunately, no matter what I do, it seems to be getting more and more. Even though I currently have "holidays", I'm at least as busy as normally, if not even more so.
I have holidays this and next week. However, I will mostly use them to do some work for uni. There's only a month or two left (depending on whether you take the exam period into account which I'll use for more research) and I haven't really done that much. However, the situation is getting better. I've been working on a script which will allow me to get the status of a bug report in the Debian Bug Tracking System (BTS) on a specific date. This tool will allow me to analyze how bugs change over time. I'm glad cjwatson answered some of my questions on how the BTS works.
On Thursday, I went to SGI Melbourne to meet Nathan Scott (a Debian developer whose Application Manager I was a few years ago) and give a talk on Debian. When I met Ken McDonell at AUUG 2003 in Sydney, I asked him about Nathan and then got an email a few weeks later asking me if I'd like to visit SGI (or sgi or whatever the spelling is these days). This was a rather nice afternoon. The engineering folks who came to the presentation asked quite a few good questions at the end, and Nathan was really nice. They also gave me some RAM for the Debian MIPS autobuilder. Unfortunately, Keith Owens wasn't in on that day. I really wanted to meet him (and convert him to Debian).
Due to this new virus/worm which sends 150KB attachments, I had real problems with my email in the last few days. I started receiving more than 200MB compressed mail a day which is a bit of a problem considering I only have a quota of 200MB a week. Unfortunately, my UUCP feed currently doesn't filter viruses. After a few days I finally got annoyed enough to look for a new temporary mail provider. Fortunately, I found a Debian developer willing to host my mail and filter it for a while. We setup UUCP together, and the situation is now much better as the DNS switches over to the new MX.
Pirates Of The Caribbean was fun!
I wanted to watch Pirates Of The Caribbean but there were only seats available in the first row. Bugger.
I started writing some scripts to extract various data from SourceForge which I'm going to use for some academic research. Unfortunately, I had to discover that they don't provide mbox files of their mailing list archives so I wrote a script to snarf the postings from the web and create an mbox (of course some headers are missing, but they are fortunately not crucial). The FAQ says they don't provide mbox files on the web because of e-mail address harvesters, but they could at least provide them to registered users. I'm also a registered user now. I'm not totally comfortable with this given SourceForge's increasingly proprietary nature, but SourceForge currently has more data to offer to a researcher than services like Savannah. I expect this is going to change eventually, though.
Finally posted another Bits from the DPL (Debian Project Leader) message. It has been months since I've last sent a summary and I've been meaning to write one for quite a while. Also posted my Debian Labs idea to debian-project.
Yesterday the student club of my college had its annual General Meeting (GM) which was compulsory for everyone, including postgrads (who usually don't have to attend the normal GMs). Due to an extremely inefficient procedure (to elect the new student club), the current president managed to have a GM which started at 7.30pm and lasted until a bit after midnight — more than 4.5 hours! This means that we (250 students) spent a total of 1125 hours just on deciding who's going to do work next year. Given that we elected about 10 people, they have to work over 100 hours just to match the amount of time we needed to elect them. This just doesn't sound right to me… (Fortunately, I realized before the first break that it will take ages and got my laptop and started reviewing some New Maintainer applications.)
I was fairly productive in the last few days, at least with regards to Debian. I chased some inactive maintainers and then reviewed some New Maintainer applications. It is also nice to finally have a system again running Debian unstable.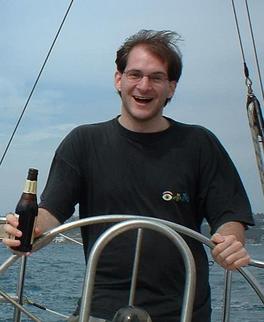 On Saturday, bod and I went sailing as planned. Anand and a friend of bod came along. It was really good fun. Unfortunately, the weather wasn't as good as the days before, but the view of Sydney was still impressive. Afterwards, Anand took me to the airport and I went back to Melbourne. (pictures from Sydney)
On Sunday, I went for a walk on the beach.
And just as I was about to write that I have to catch up on uni stuff now, I get a phone call telling me a big package for me is downstairs. Looks like I'm going to spend the day installing Debian on my new laptop then.
On Thursday, I headed to the conference at about lunch time and then decided to go to Bondi beach. It's absolutely wonderful there. God, I'm so jealous since we don't have any beaches like this in Melbourne. I was really impressed when I first saw the beach. I don't think I've ever seen waves like that before. (I thought the water seemed rather dirty, though.) Later that day, I headed to StevenK's workplace and met him and 3 other Debian developers. It must be nice to work in a company with 4 Debian developers and a product based on Debian. The five of us went to a pub to have drinks and then StevenK and I had dinner at a Thai restaurant which was really yummy.
On Friday, I crossed harbour bridge by foot and enjoyed the great view of the harbour. I then went to the conference and listed to some talks, including one by Sylvia Pfeiffer of CSIRO on OGG. Later I took a ferry to Mosman and walked around there for a while. The weather was really beautiful during the day.
Today, bod arranged for us to go sailing. Schweet. Unfortunately the weather isn't as good as it was the last few days. I hope it will improve in the next few hours.
Yesterday evening was incredible fun. I met Matt Hope and Pascal Hakim in town and they then gave me a lift to the venue where we had DebSIG. Various people there fed me with beer and then made me gave a little speech. I was supposed to talk about contributing to Debian without maintaining packages (or about becoming the Debian Project Leader without being a big package maintainer). It was actually more of a discussion then rather than a speech, and we talked about New Maintainer, the Debian trademark and other stuff which is being discussed at the moment. Later, I had a chance to talk to Jeff Waugh of GNOME fame about release management. Still later, (after making me slightly drunk) they made me play pool so they could take over as DPL for a week (more on that below). Fortunately, due to the help of Anand we won the first game; we lost the second one, though.
So what's the deal with me losing at pool anyway you may wonder. Well, look at the DebSIG announcement:


From: akumria@debian.org
Subject: DebSIG: (this) Wednesday 3rd September
Date: Mon, 1 Sep 2003 16:27:42 +1000
To: debian-au@lists.linux.org.au
Cc: leader@debian.org, announce@lists.slug.org.au

Hi All,

Only a few weeks ago was Debian 10th Birthday; this week we are
fortunate to have Martin 'tbm' Michlmayr -- Debian Project Leader --
up in Sydney.

To celebrate, we've decided to make this DebSIG a week early. In order to
meet as many Sydney based Debian developers as possible Martin has thrown
down the gauntlet and challenged all who come to three games of pool.

Anyone who is able to beat him (at pool) can take over as DPL for a week.
Plus if you bring your key you might get it signed.

Martin will give a number of talks on topics such as 'how to effectively
bribe the DPL' and 'contributing to Debian without being a package
maintainer' and 'my favourite Australian beers'.

Summary:

WHAT: DebSIG

WHO: Martin Michlmayr, Debian Project Leader

WHEN: Wednesday 3rd September from 18:30

WHERE: Wooloomooloo Bay Hotel, downstairs courtyard

WHY: Challenge Martin for DPL! Also get your key signed

Remember to bring your GnuPG key and fingerprint to get it signed.

I arrived in Sydney and went straight to the AUUG conference. It was fairly easy to find and I really like the double-decker trains they have. The city seems really beautiful, but I haven't seen much yet. But the harbour which I saw was nice… I really like water... it's unfortunate that I live in the center of Melbourne and almost never get to see the beaches or the harbour.
Installed Debian on Vanessa's PC on Friday so I can connect my laptop to the Internet through her machine, and she's also happy to have a proper workstation now. I was surprised that it was fairly easy to get the WinModem to work. Sharing a 56k line is quite painful, though. And the PPP connection dies when I'm trying to rip a CD. I wonder if this is related to the modem being a WinModem.
Went to the cinema with Vanessa to watch Terminator 3. I've been warned before that this is a film where you can leave your brain at home; hence I went there with the right attitude and expectation and it was quite fun. The action was pretty good. Unfortunately, many scenes reminded me of Terminator 2 and hence were a bit boring. I also realized that this was the first time I've actually seen a movie with Arnold Schwarzenegger in it in English. His English accent is even worse than his German accent and I thought the German one was bad enough.
We also saw a preview of Pirates Of The Caribbean which is still not showing here. I'm really annoyed about this since everyone in the UK has seen it already. It's scheduled for mid September. Finding Nemo is also not showing yet, but I've seen it on the plane when I came here and that was, what, 3 weeks ago?