I finally got some pictures from the MRI experiment I participated in last year: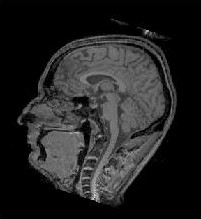 After returning from Sri Lanka, I had two days before heading off to Oslo where I gave some lectures at the University of Oslo. Upon arrival at the airport, I had plenty of time to get to the university. Unfortunately, the train was massively delayed and time was running shorter and shorter. The lectures took place in the same place as Debian Conference two years ago, which made it easy to find the way, and I arrived in time. The lectures went fairly well; however, teaching at the university is quite different to giving a talk at a free software event. While you can assume in the latter case that people will be vaguely interested in what you're saying, some (many?) students are just sitting there because they have to.
As we all know, Sri Lanka is famous for giraffes rather than elephants, so Chamindra presented the official Sri Lankan giraffe to me: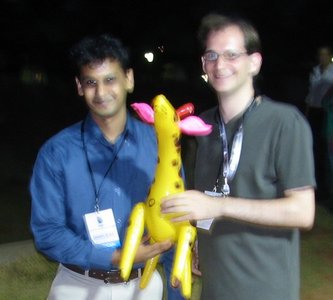 On Tuesday, I briefly did some sightseeing in the morning and then I went to the CodeFest. It was coordinated by NIIBE Yutaka, who recently became a Debian developer. There was quite a bit of interest in Debian, and I hope that the tutorial I gave on Wednesday helped people getting an idea as to how to get started. On Thursday, the LAMP conference started and I presented an overview of the Debian project.
I had the impression that there were some really enthusiastic and competent people in the audience and I hope this event will contribute to establishing a stronger development community in Sri Lanka. The LK LUG in particular seems to have some competent members. While they may become good free developers, they had no chance though when we played two games of laser quest one night. I got the high score in both games!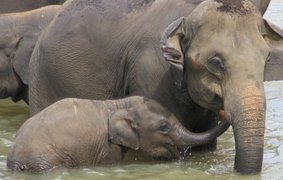 Apart from the conference itself, we had some really nice dinners. Even though the week was quite busy, I managed to get some sightseeing done. On Friday morning, I visited an elephant orphanage a few hours from Colombo (seeing some cute elephant babies!) and I visited the most important sights in Colombo. I hope I'll have a chance to return so I can see more.
Unfortunately, it was raining on Sunday so I didn't get to do as much as planned. Chamindra, one of the organizers and the person who invited me to Sri Lanka, came to Bentota with his family and we went for a swim. I was planning to (try to) waterski for the first time but decided against it since it was starting to rain. Still, a nice, relaxing day.
On Monday, I went back to Colombo, visiting a Buddhist temple on the way. In the afternoon, I attended FLOSSschool. As part of the national FOSS week, they had some talks for pupils in the morning and for university students in the afternoon. I gave an overview of how free software projects work and I had a chance to meet some members of the LK LUG, some of which seem quite enthusiastic.
On Friday evening, I went to Heathrow for my flight to Sri Lanka where a national week on free and open source software will take place next week. This national free software week will include various events, such as a CodeFest (in which a number of Asian Debian developers will participate), a conference, some talks for schools, etc. I'll give a tutorial on contributing to Debian, an introduction talk about the organizational structures of Debian and another talk at the event for students.
My flight went via Doha and it was a bit delayed because some passengers got on late. That wasn't a problem, however, since I had plenty of time to catch my connecting flight. The amazing thing was that it was something like 32 degrees C when I arrived in Doha at only seven in the morning. I only spend a few seconds outside on the way from the airplane to the bus but I felt sticky already.
On the way to the airport I started reading Neal Stephenson's Quicksilver, the first part of his baroque cycle. He talks about Newton and Leibniz and stuff and it's really fascinating. I hadn't much time to read books recently but I'm really looking forward to reading all three books of this series (each of which have something like a thousand pages). On the first flight, I watched Kingdom of Heaven, which was great. I just love movies that play in the Middle Ages or so.
On the second flight, I managed to sleep a bit and after I while I arrived in Colombo. I have gotten quite used to luxury of being picked up from the airport but this time someone waited for me before immigration. This is getting really scary. ;) She took me to the VIP lounge where Pradeeper, one of the organizers, kindly met me. Having expressed my interest to spending some time at the beach before the conference, the organizers reserved a hotel room south of Colombo (where the beaches are best) for the first two nights. A driver took me to Bentota, about two hours south of Colombo. The hotel is really amazing. It's right at the ocean. I can hear the waves in my room and the sea is about 30 meters away from my balcony. This is one of the few hotels in this area which experienced little damage during the tsunami. On the way here we saw quite a number of houses which got destroyed and a larger number of newly re-built houses. Anyway, I just had a foam bath and I'm about to head to bed. This place seems really nice and I'm looking forward to exploring it tomorrow. (This would probably be a good place for a honeymoon; they even had a candle in the bathroom, although I guess the bathtub isn't quite big enough for two.)
My brother and his family were in Innsbruck for the wedding and they got out some old stuff from us for their daughter. When I saw her playing with a toy horse, I recognized it and promptly traded it for a penguin. A neighbour made this cute horse for me and according to my mum I had a giraffe too... unfortunately, we don't know where it is.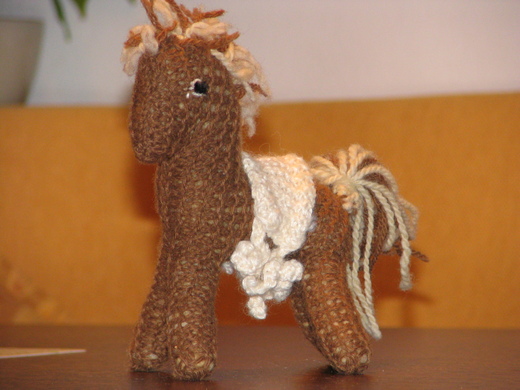 Last weekend I went to Innsbruck to attend the wedding of my sister, Katrin, and Jeremy. They originally had a civil wedding in the States a few months ago but planned to do a church wedding in Austria. The wedding was quite nice. The ceremony was a bit too religious (doh) for me, but considering it was a church wedding it was actually pretty reasonable. When we left the church, it was a scene like in a movie; it had rained previously but when we opened the door, there was suddenly sunshine!
The wedding was followed by the usual dinner. Katrin's friend planned a few nice activities. They read a passage from the Little Princess in which he talks to the fox about friendship and being tamed and that you're responsible for friends your whole life. Then, they had two set of postcards: one type was used to put on balloons in the hope that those who'll find them will post them. I'm not allowed to talk about the other set about because it wouldn't be a surprise anymore; but suffice to say that it was a good idea.
Katrin and Jeremy went to Italy for a few days before they'll return to the States on Saturday. I'm back in Cambridge already. It's pretty funny that all of us are in different countries now. My brother has been living in Luxembourg for a few years, and I've been around... but we always assumed my sister would stay in Austria...
Last week I got the new camera I ordered, a Canon S1 IS. A friend took a photo of me which I quite like: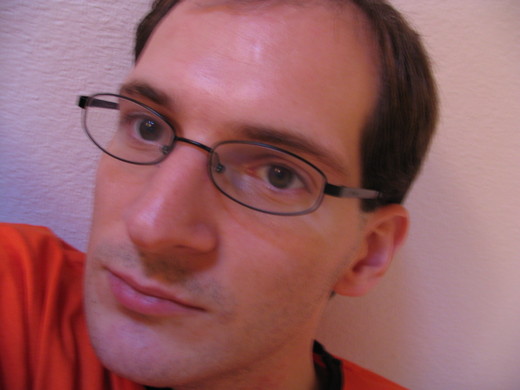 A few days ago I went swimming at the Parkside swimming pool. I really like swimming and wanted to go to the swimming pool since I moved here but somehow never got around to it (but hey, I've only lived here for one and a half years). Anyone from the Cambridge crowd up for going swimming every once in a while?
On Friday, I went to London for a meeting with Fotango. Afterwards, I met up with James Bromberger, which was really nice. I've mostly been doing researchy type of stuff recently... working on papers, reading some papers and books and so. It's quite scary that I've been back in Cambridge for a month again after my little conference tour around Europe. In fact, I haven't written about the last one I attended yet. After returning from Spain, I went to Genova in Italy for an academic conference on free software and open source. Unfortunately, it overlapped with Debian Conference but I really had to go to the academic conference because I was presented a paper and my PhD project there. My PhD proposal was very well received and I got some good feedback. Anyway, I'm actually on my way to Austria right now but I'll only be there for a few days and then go back to my research.
Well, maybe... Yesterday I received the Netgear WGT634U access point I bought and I've been playing around with it. It's a MIPS based machine with 32 MB memory and 8 MB flash, running Linux. It has USB and I intend to connect an external hard drive to it and run a full Debian system on it. This should give me a good excuse to hack on debian-installer again...
On Wednesday evening, I went to Vilanova i la Geltrú to attend the Jornades de Programari Lliure. I gave a talk about quality in free software, which was well received, and spent the rest of the time talking to other people or working on stuff. My initial plan was to spend significant time at the beach. Unfortunately the weather wasn't good enough to go swimming, so I only had a walk on the beach one day and spent a few hours in the sand another day.
On Monday, I went to Barcelona. The weather wasn't too good but I spent a few hours at the beach before going to Castellón where I gave lectures on project management and Debian at a Libre Software Summer School the following morning. In the afternoon, I went to Benicassim with some PhD students from Spain and Greece where we would have a meeting to talk about how to work together more closely. We went swimming in the sea and the pool of the hotel; the next day was similar with the addition of discussions about our research. We talked about the possibility of me going to Madrid for a few months. I'm interested but I've to check how this fits into my schedule. In any case, I really had a great time in these 1.5 days... I haven't been to the beach for too long and going swimming for a few hours was so much fun and refreshing. beach + sand + water -> happy Martin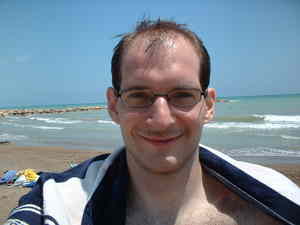 After briefly returning to Innsbruck, I went to Munich to meet up with Michi (and Dogi and Mako). Our original plan was to go to a Hip-Hop/turntable party but unfortunately they wouldn't let us in. Instead, we went to another party and danced for a few hours. That was quite refreshing given that I haven't gone out to dance for quite a while... on Sunday, I wanted to go to a medieval festival but I couldn't convince Michi and Mako that this was a good idea. They wanted to visit a Biergarten (in Andechs), followed by visiting the lake in Starnberg.
Originally, my plan was to stay in Innsbruck for a week but when some people in Italy heard about my plans, they promptly invited me to give talks. Therefore, I went to Trento on Wednesday, followed by Bologna on Thursday. In Trento, I gave a talk about my research at the university and in Bologna I gave a guest lecture at Alma's free software Master's. I also spent some nice time with Zack and went out to dinner with him and KAlfa.
After LinuxTag, I went to Innsbruck to spend some days with friends and family. I got a lift from someone and we talked about various things on the way back. It was really a nice conversation. When I arrived, I had a few relatively busy days... my grandma wanted to cook for me on Sunday, I had to see my uncle, my friends, etc... even though I was quite busy, I had a really good time. I don't really like to be in Innsbruck during winter, but visiting during summer is really nice... I even went back to my old high school to thank some teachers. They really appreciated this, as I assume that few pupils care to go back.
The rest of LinuxTag was fun too, especially the Social Event. Apparently, the organization wasn't too good last year (for example, there wasn't enough to drink and eat) so they paid a professional catering service this year. This certainly paid off since there was plenty to drink and eat. In fact, there was probably too much; when I wanted to get some more wine, they asked if I wanted a glass or a bottle... I spent the evening talking to Dogi, eventually staggering back in the middle of the night. On Friday and Saturday, I listened to workshops on quality assurance in the OpenOffice.org project and IssueZilla which were both very interesting. During the conference, various people put stuff on my head and took photos. Scary how easily things get out of control...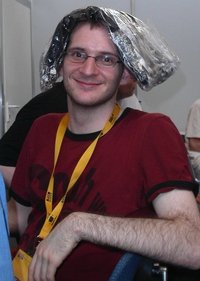 At LinuxTag, I conducted interviews on release management with developers from various projects, including Gentoo and OpenOffice.org. One question regarding time-based releases relates to the most appropriate release frequency. Should you do a release every 6 months, every 12 months or what? So far, Gentoo has done four releases a year. Unlike I initially thought, these weren't mere snapshots but real (i.e. tested) releases. They are currently moving away from four to two releases a year because they say that preparing a release takes significant effort and doesn't leave enough time for development when you try to make a release every three months. On the other hand, OpenOffice.org follows a (roughly) 18 month cycle. This is partly because Sun wants to sell a boxed version based on OpenOffice.org and customers wouldn't buy a new version if the cycle frequency was much higher. It also allows other commercial products to appear, such as books; they would be constantly out of date if new releases came out every few months. Some community members would like to see more frequent releases, however, and it will be interesting to see what model will be employed in the future.
What would you want more — a nice and warm evening, sitting in the grass and looking at the stars, followed by booze, interesting discussions and rants about life, the (free software) universe and everything.
LinuxTag has been fun so far. It was good to meet most of the German Debian crowd again plus various guys from various other countries. Getting up at 4 in the morning to catch my flight wasn't fun though, but I'm sure I'll get copious amounts of sleep RSN now so I'll be fresh to do some interviews with GNOME, Gentoo and OpenOffice.org people for my research tomorrow.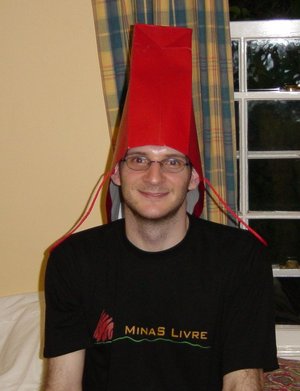 About six months ago, the hard drive of my laptop crashed and given that I had a paper due two days later, I needed a quick solution and together with mjg59 (i.e. him doing the work, me idly wondering about the world) replaced the disk with a spare one I had. Unfortunately, the disk is in an enclosure which uses very tiny screws for which nobody has a screwdriver. Since I needed a working laptop immediately, we just took the whole enclosure out and put another drive without enclosure in. Since then, I wanted to send the drive in to get a replacement but I first had to get it out of the enclosure. After unsuccessfully asking around for such a special screwdriver and procrastinating for a few months, I finally figured that I should make use of the fact that I'm based in the department of engineering. And, indeed, there are people who actually do Real Stuff and have Real Tools. So I managed to get the drive out of the enclosure yesterday, phoned HP support for a new drive, and voila, less than 24 hours later I had my replacement. The new drive even uses normal screws, showing that HP learned their lesson. I've dealt with HP support several times and so far they have always been excellent.
Since I finally got my bigger drive back, I spent the afternoon implementing the project that has been on my list for a while: use encryption for both my home and root partitions. After syncing the data over and playing around with mkinitrd for a while, I got it working without any problems.